The Biggest Benefits of Laser Hair Removal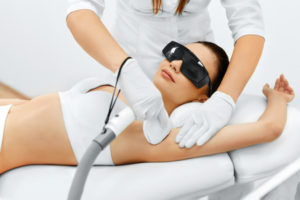 There are plenty of ways to get rid of your unwanted body and facial hair, from shaving and waxing to laser hair removal and electrolysis. So what makes laser hair removal the best option of them all? What sets laser hair removal apart and makes it worth your hard earned money? The bottom line is that laser hair removal offers major benefits with very few drawbacks, making it the preferred method of hair removal for men and women across the country.
Laser Hair Removal Is Versatile
That hair on your upper lip? Laser hair removal can make it disappear. Your thick and stubbly five o'clock shadow? Laser hair removal will tame and thin it until it's virtually nonexistent. Hair in the bikini area that is definitely not bikini friendly? Yes, laser hair removal will remove that as well. No matter where your unwanted hair is located, laser hair removal is gentle yet precise enough to ensure results.
It Works for Men and Women Alike
The versatility of laser hair removal is exactly why the treatment is an excellent solution for men and women alike. Women can target their legs, underarms, and bikini areas while men tackle the chest, face, and back. Nobody should have to feel less confident due to unwanted body and facial hair, and thanks to laser hair removal men and women can seek an effective solution.
The Treatment is Impressively Quick and Easy
Laser technology continues to evolve and revolutionize how treatments are completed. Innovative lasers light the LightSheer INFINITY and the LightSheer DESIRE work up to 75 percent faster than other available lasers. They also contain proprietary technology that cools the skin for increased patient comfort. They even utilize two distinct wavelengths so that laser treatment can be customized to skin color! The 805nm lightwave works on all skin types, while the 1060nm wavelength delivers best results on tanned and dark skin types. If you have 45 minutes, you have enough time to banish unwanted hair from your body and face.
Real Results
Laser technology sends a powerful beam of light into each hair follicle. The laser's light is absorbed by each hair pigment, which severely damages the follicle and prevents future growth. After a series of treatments to effectively target each hair in your specific zone, your hair will stop growing back for many years. If and when it does grow back, the hair will be dramatically thinner and lighter. Another treatment can zap it all for good!
If you want smooth and silky skin before the summer arrives, call (813) 773-0804 to make an appointment at Tampa Laser Hair Removal in Tampa, Florida. With the LightSheer DESIRE laser and other cutting edge technologies, the team at Tampa Laser Hair Removal will help you uncover the skin you have always wanted.