3 Things Men Need to Know About Laser Hair Removal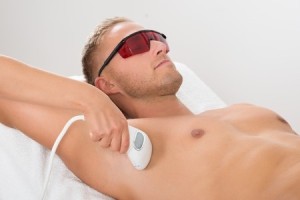 Most people correlate laser hair removal with a woman's desire to achieve smooth legs, but laser hair removal is just as valuable for men! It is the perfect tool to remove unwanted and troublesome hair from the face, back, chest, and any other targeted area on a man's body.
If you're a male seeking laser hair removal, here are the top three things you should know.
Laser Hair Removal Achieves Permanent Hair Reduction
Laser hair removal is a sophisticated process that harnesses laser energy to damage hair follicles and prevent them from growing more hair in the future. Advanced lasers like the LightSheer Desire laser even have a vacuum to gently pull skin into place on a handpiece in order to draw the targeted hairs closer to the laser's energy. There is no risk of burns or injuries with laser hair removal on the face, yet the system offers so many perks.
Kiss Your 5 O'Clock Shadow Goodbye
Laser hair removal is the perfect tool to help you reduce the hair on your face. You can forget about ingrown hairs, constant stubble, and that persistant 5 o'clock shadow. This treatment helps you minimize and eliminate the amount of hair on your face gradually, over time.
Rather than shaving every single day or waxing every few weeks, laser hair removal permanently reduces the amount of hair that grows to begin with.
Go Shirtless With Confidence
If excess hair on the chest and back causes you to feel self-conscious at the pool or on the beach, laser hair removal is your solution. The same treatment that is gentle enough to reduce the hair on your face can also target large areas like the chest and back quickly and efficiently. Your hair in those treated areas will become thinner and less noticeable until it eventually stops growing altogether.
You don't have to look far for the professional hair removal treatments you need to achieve results. At Tampa Laser Hair Removal in Tampa, Florida, the experienced team uses the latest technologies to deliver the highest quality hair removal at affordable prices. Call (813) 773-0804 to make your appointment today.