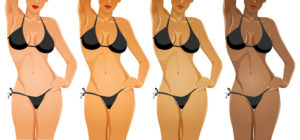 The average woman shaves nearly 8,000 times throughout her life, totaling 60 full days of shaving. That is too much work for results that only last one day! Now more than ever before, men and women are turning to laser hair removal to reduce body hair without the never-ending hassle of shaving and waxing.
Laser technology has advanced significantly in past years. Brands like the Lumenis family of lasers are clinically proven to target the entire hair structure from the shaft to follicle in order to stop unwanted growth. Though first generation lasers could only target dark hairs on light skin, today's lasers can accommodate a variety of skin colors and types.
The History of Laser Hair Removal and Skin Color
The science behind laser hair removal has evolved significantly since its first FDA-clearance in 1995. Even after improvements, the FDA-cleared laser hair reduction technology of 1998 could only be used on light skin tones with dark hair. The limited number of laser light wavelengths approved for use at that time were dangerous to men and women with darker skin tones since the lasers harmed melanin in the skin as well as the hair follicles.
Fortunately, cosmetic laser technology has transformed since then. Now, treatment providers possess the tools required to safely and effectively use laser hair removal on a variety of skin colors and types. Lasers that use long wavelengths and pulse widths are best for darker-skinned individuals and ethnic skin tones, while shorter wavelengths work best on lighter skin tones. Read More →