The Three Most Common Areas for Laser Hair Removal for Women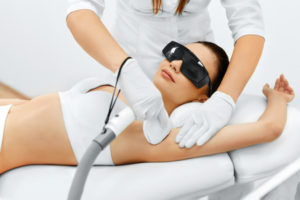 Have you been considering laser hair removal? Shaving, waxing, and other hair removal options can be painful, irritating to the skin, and cost hundreds of dollars per year every year. Laser hair removal is a great way to limit or eventually eliminate shaving altogether, saving you time, money, and improving the condition of your skin. Here are the three most common areas that women get laser hair removal.
Legs
The one area that all women seem to shave is their legs. Keeping your legs smooth is especially important in Florida because the weather is frequently warm and tropical. You are more likely to show your legs for a larger part of the year when you live in these warmer climates. If you don't want to have to shave your legs every other day to stay smooth, laser hair removal is a great alternative.
Underarms
It is becoming more and more common for women to not shave their underarms. However, for many women, it is uncomfortable and embarrassing to have underarm hair. Shaving under the arms is fraught with more peril than shaving your legs because the skin there is much more sensitive. Laser hair removal on your underarms can be a complete game changer.
Bikini Line
Many women prefer to have as little hair on their bodies as possible, and that includes the bikini line. Even though you aren't going to spend the entire year at the beach or pool, there are a lot of reasons to go ahead and get laser hair removal in this area. You may do it for the comfort level, or you may want to remain tidy for your partner. This area, too, is very sensitive, and shaving and waxing can irritate the skin and surrounding tissues. Laser hair removal is effective and much more comfortable.
If you are ready to get laser hair removal, contact us today to schedule your appointment.